Bento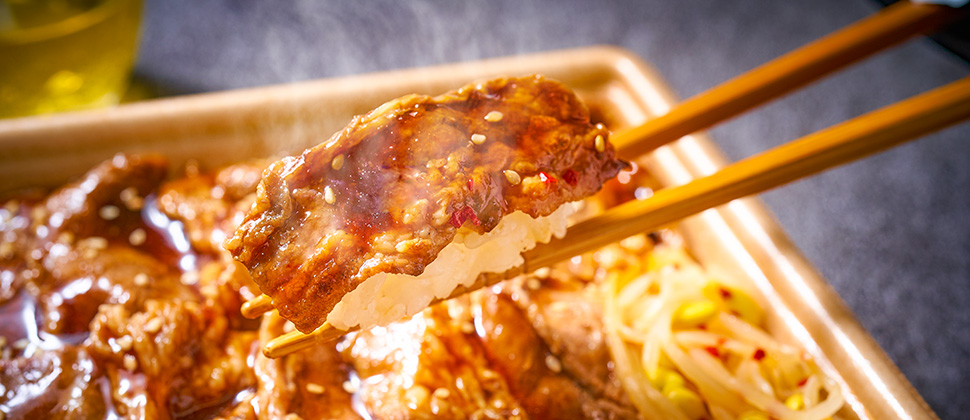 In addition to the standard 'Makunouchi Bento' lunch box, which has a well-balanced mix of rice and various side dishes, we have also put together 'Gyudon', 'Katsudon', 'Oyakodon' and 'Chinese-Style' bowls with rice and side dishes.
Popular Foods
Our Favorite Makunouchi Bento

¥430 (tax incl. ¥464)
Made with our most popular bento side dishes.

Large Gyudon with Specially Aged Beef

¥398 (tax incl. ¥429)
Each piece of beef is quickly and carefully simmered one at a time for a tender taste.

Meat Deluxe! SEVEN-ELEVEN's Exclusive Katsudon Roast Pork Cutlet Rice Bowl

¥498 (tax incl. ¥537)
Using dedicated facilities and an iron pot, each piece of pork is cooked quickly in high heat to make this pork cutlet rice bowl, available only at SEVEN-ELEVEN.

SEVEN-ELEVEN's Exclusive Broiled Chicken Oyakodon Rice Bowl

¥430 (tax incl. ¥464)
Topped with our signature flame-broiled chicken.

Half a Day's Serving of Vegetables!
SEVEN-ELEVEN's Exclusive Chinese-Style Rice Bowl with Rich Umami Flavor

¥498 (tax incl. ¥537)
Stir-fried pork and vegetables cooked together produce a rich umami flavor.
*All pictures shown are for illustrative purposes only.
*Product specifications, prices, and release dates may vary by region.
*Some products may not be available at certain stores.