Sweets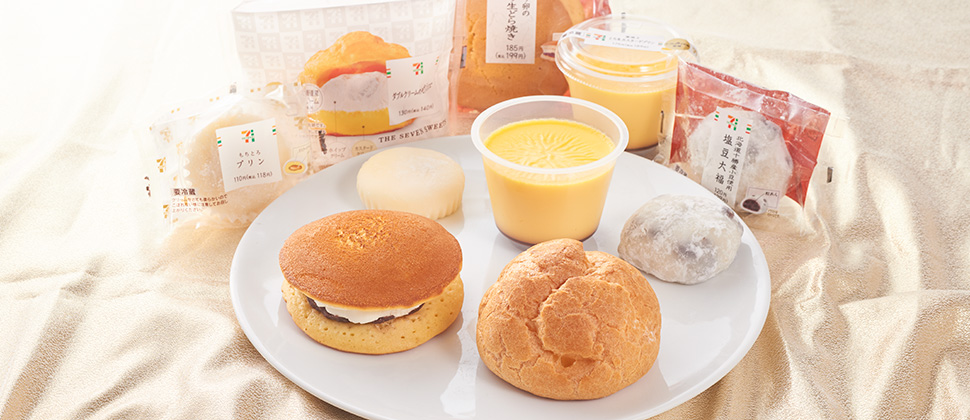 Try our popular SEVEN-ELEVEN original sweets, including our rich, flavorful classic cream puffs, puddings and dessert cups you can eat anywhere.
Popular Foods
Cream Puff (Custard)

¥120 (tax incl. ¥129)
A rich cream made by adding extra vanilla beans to whipped cream.

Cream Puff (Custard & Whipped Cream)

¥140 (tax incl. ¥151)
Made from European-reared eggs, fermented butter and flour milled along the French Ruisseau de Chou for a great taste and texture.

Eclair (Custard)

¥130 (tax incl. ¥140)
A highly fragrant blend of cacao from three countries is the secret of our éclair's aromatic chocolate.

Custard Pudding

¥178 (tax incl. ¥192)
The smooth taste of our classic custard pudding.

Cake (Chestnut)

¥278 (tax incl. ¥300)
A popular sweet now featuring even more mousse made with roasted Italian chestnuts.

Mitarashi dango

¥148 (tax incl. ¥159)
The sauce that coats these dango gives them their distinctive sticky texture.

Hokkaido Adzuki Bean Daifuku

¥88 (tax incl. ¥95)
Sweet bean paste made with adzuki beans from Hokkaido gives this product its springy texture.
*All pictures shown are for illustrative purposes only.
*Product specifications, prices, and release dates may vary by region.
*Some products may not be available at certain stores.