Message from President

With the aging population, declining birthrate, decreasing population, and advanced information and communications technology, the environment surrounding the retail industry has been transforming more rapidly than ever. Seven-Eleven Japan, which has been working on the convenience store business since its foundation, positioned as a "company that responds to change," established Seven & i Holdings in September 2005, with Ito-Yokado and Denny's Japan, in order to further strengthen its responsiveness to change. Consequently, Seven & i Holdings manages and supervises the business as a pure holding company, where Seven-Eleven Japan has established a system focused on the convenience store business as an operating company, dedicated to responding to expectations and demands from customers and franchisees accordingly and promptly. In November 2005, we made 7-Eleven, Inc., in the U.S., our fully owned subsidiary to control operation of the national and international convenience store business and have been steadily advancing our business system.
In 2007, the "nanaco" electronic money service, which was first implemented in the retail industry, was launched by utilizing the group synergy of Seven & i Holdings. Additionally, the "Otoriyose-bin (Web shopping)" service was also started by combining Internet shopping with existing store services and infrastructure. By interconnecting the business infrastructure such as by a chain store network, information systems, distribution systems, and product development capabilities that 7-Eleven has accumulated with the latest information technology, etc., we continue to create products and services that provide new value for customers and franchisees while expanding the possibilities of the convenience store business.
In addition, with regard to "safety and security," which have been a major issue facing the entire society, we are responding through products and services that we provide daily and are seeking to respond to our social trust by assuming CSR (corporate social responsibility).
With "breakthrough thinking" that is not constrained by the past, 7-Eleven will continue to always tackle new challenges and create a convenience store business that responds to expectations from customers and franchisees.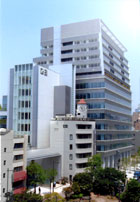 Message from President