Message from President

The structure of society in Japan today is changing due to the aging population, the falling number of people in individual households, and women's growing participation in the workforce. This is also causing major changes in customers' lifestyles and values that affect consumption. In these times, we at Seven-Eleven Japan will mobilize the strengths of our nationwide store network of more than 20,000 stores to provide high-quality products and services that meet customer needs better than ever before.
Since our founding in 1973, we have never stopped innovating in every area of our business, from products and stores to information systems and logistics, based on close cooperation with franchisees and our approach to responding to the changes taking place in society and living environments. We are striving to further improve the quality of our products and services to meet the increasingly diverse needs of society and customers today. Through our smartphone app and other aspects of our digital strategy, we are also pursuing creation of new forms of convenience to broaden connections with individual customers and lead to next-generation retail services. We will also push forward with initiatives to increase the efficiency of store operations, including introducing equipment designed to reduce workload and save labor at stores.
In May 2019, Seven & i Group announced the "GREEN CHALLENGE 2050" environmental goals, which sets concrete targets in relation to four themes to be achieved by the years 2030 and 2050. Seven-Eleven Japan will also proactively implement initiatives aimed at resolving social issues in cooperation with customers, franchisees, business partners, and local communities.
We will continue pursuing our vision of "Close and Convenient" through quality-focused products and services as well as store creation, striving to achieve retail services that contribute to the growth of society.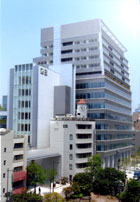 Message from President