Message from President

Since opening the first store in 1974, 7-Eleven is successfully pursuing self-innovation in response to changing customer needs. In recent years social environment is going through a fundamental transformation where our convenience stores should not build on past practices but flexibly respond to the needs of customers through new ideas.
To achieve it, we are striving to further understand local communities and the environment of each individual store, and aiming to provide products and services that match customer demand while offering high-quality convenience as a part of social infrastructure. Furthermore, we are actively promoting countermeasures to environmental and social issues in aligned with the United Nations SDGs (Sustainable development goals). Seven & i Group has identified five material issues and initiated concrete measures to address them.
Since its foundation, Seven-Eleven Japan has laid the basis of a franchise system where we succeeded together with our franchisees in a collaborative business. From now on, through an even closer partnership with our franchisees, we keep on challenging to provide close and convenient products and services to local communities.
Five material issues:
1. Providing social infrastructure in this era with an aging society and declining population
2. Providing safety and reliability through products and stores
3. Non-wasteful usage of products, ingredients, and energy
4. Supporting the active role of women, youth, and seniors across the group and in society
5. Building an ethical society and improving resource sustainability together with customers and business partners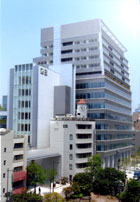 Message from President